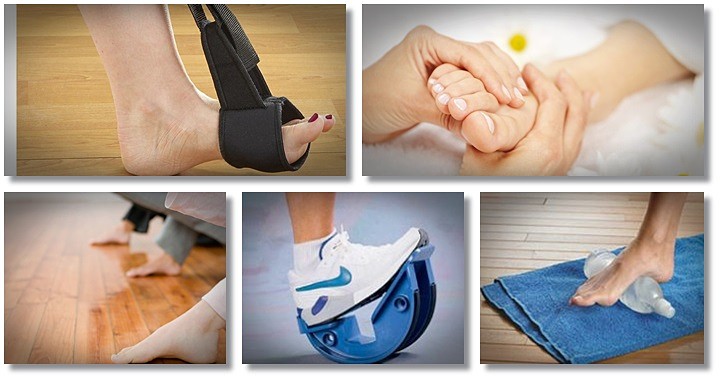 Overview
If your first few steps out of bed in the morning cause severe pain in the heel of your foot, you may have plantar fasciitis, an overuse injury that affects the sole of the foot. A diagnosis of plantar fasciitis means you have inflamed the tough, fibrous band of tissue (fascia) connecting your heel bone to the base of your toes.
Causes
When the foot moves, the plantar fascia stretches and contracts. Plantar fasciitis is caused by the repetitive overstretching of the plantar fascia. If the tension on the plantar fascia is too great, this overstretching causes small tears in the plantar fascia. This in turn causes the plantar fascia to become inflamed and painful. Factors that contribute to the development of plantar fasciitis include having very high arches or flat feet, gender, while anyone can develop plantar fasciitis, it tends to occur more commonly in women, exercises such as running, walking and dancing, particularly if the calf muscles are tight. Activities or occupations that involve walking or standing for long periods of time, particularly on hard surfaces, wearing high heeled shoes or shoes that do not offer adequate arch support and cushioning, being overweight, additional weight increases the tension on the plantar fascia, poor biomechanics, extra tension is placed on the plantar fascia if weight is not spread evenly when standing, walking or running. Some cases of plantar fasciitis may be linked to underlying diseases that cause arthritis, such as ankylosing spondylitis.
Symptoms
The typical presentation is sharp pain localized at the anterior aspect of the calcaneus. Plantar fasciitis has a partial association with a heel spur (exostosis); however, many asymptomatic individuals have bony heel spurs, whereas many patients with plantar fasciitis do not have a spur.
Diagnosis
If you see a doctor for heel pain, he or she will first ask questions about where you feel the pain. If plantar fasciitis is suspected, the doctor will ask about what activities you've been doing that might be putting you at risk. The doctor will also examine your foot by pressing on it or asking you to flex it to see if that makes the pain worse. If something else might be causing the pain, like a heel spur or a bone fracture, the doctor may order an X-ray to take a look at the bones of your feet. In rare cases, if heel pain doesn't respond to regular treatments, the doctor also might order an MRI scan of your foot. The good news about plantar fasciitis is that it usually goes away after a few months if you do a few simple things like stretching exercises and cutting back on activities that might have caused the problem. Taking over-the-counter medicines can help with pain. It's rare that people need surgery for plantar fasciitis. Doctors only do surgery as a last resort if nothing else eases the pain.
Non Surgical Treatment
At the first sign of soreness, massage (roll a golf ball under your foot) and apply ice (roll a frozen bottle of water under your foot). What you wear on your feet when you're not running makes a difference. Arch support is key, and walking around barefoot or in flimsy shoes can delay recovery. If pain is present for more than three weeks, see a sports podiatrist. Treatments such as orthotics, foot taping, cortisone injections, night splints, and anti-inflammatories decrease symptoms significantly in about 95 percent of sufferers within six weeks. For more stubborn cases, physical therapy may be prescribed; six months of chronic pain may benefit from shock-wave therapy, an FDA-approved plantar-fasciitis treatment.
Surgical Treatment
Surgery for plantar fasciitis can be very successful in the right patients. While there are potential complications, about 70-80% of patients will find relief after plantar fascia release surgery. This may not be perfect, but if plantar fasciitis has been slowing you down for a year or more, it may well be worth these potential risks of surgery. New surgical techniques allow surgery to release the plantar fascia to be performed through small incisions using a tiny camera to locate and cut the plantar fascia. This procedure is called an endoscopic plantar fascia release. Some surgeons are concerned that the endoscopic plantar fascia release procedure increases the risk of damage to the small nerves of the foot. While there is no definitive answer that this endoscopic plantar fascia release is better or worse than a traditional plantar fascia release, most surgeons still prefer the traditional approach.
Stretching Exercises
In one exercise, you lean forward against a wall with one knee straight and heel on the ground. Your other knee is bent. Your heel cord and foot arch stretch as you lean. Hold for 10 seconds, relax and straighten up. Repeat 20 times for each sore heel. It is important to keep the knee fully extended on the side being stretched. In another exercise, you lean forward onto a countertop, spreading your feet apart with one foot in front of the other. Flex your knees and squat down, keeping your heels on the ground as long as possible. Your heel cords and foot arches will stretch as the heels come up in the stretch. Hold for 10 seconds, relax and straighten up. Repeat 20 times. About 90 percent of people with plantar fasciitis improve significantly after two months of initial treatment. You may be advised to use shoes with shock-absorbing soles or fitted with an off-the-shelf shoe insert device like a rubber heel pad. Your foot may be taped into a specific position. If your plantar fasciitis continues after a few months of conservative treatment, your doctor may inject your heel with steroidal anti-inflammatory medication. If you still have symptoms, you may need to wear a walking cast for two to three weeks or a positional splint when you sleep. In a few cases, surgery is needed for chronically contracted tissue.